Further Learning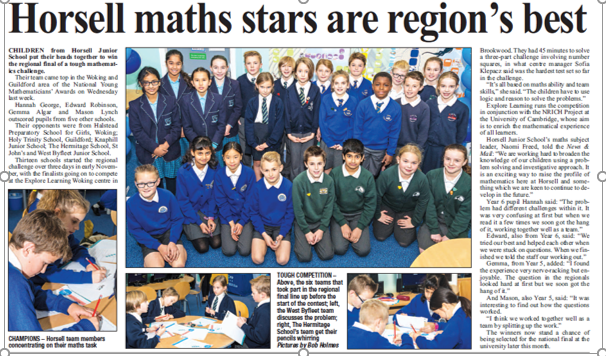 Suggested mathematics book list.
Learning in a cross- curricular way can really help some children, below are a list of book titles that can assist the children with their maths learning, some may even match a genre for their Reading Passport.
The get rich quick club - by Rose Impey
The get rich quick club 2 Kerching - by Rose Impey
Horrid Henry Gets Rich Club - by Francesca Simon
How far is far - comparing Geographical distances
How tall is tall - comparing structures
Record breakers- The Fastest
Murderous Maths Set
Moonwalk
If… by David. J Smith
A-Z of Maths vocabulary
Usborne Junior Illustrated Maths Dictionary
Oxford Primary Illustrated Maths Dictionary
Help Your Kids with Maths - by Carol Vorderman
Help Your Kids with Times Tables - by Carol Vorderman
The Terrific Times table book
Year Group subject specific vocabulary
Please click on the year group link to find various word bank lists specific to each year group of vocabulary that they will come across in different units of maths work.
Useful resources
To help your child at home, resources, like the ones below, can really engage and support children with their progress and understanding. Cards and dice are a great way for children to formulate their own questions to challenge their thinking. Other options are:
Playing cards
Bead strings
Multiplication grids
Number squares
Dice
Real-life experiences that can also aid our maths learning include: questioning, measuring, weighing, shopping - the best value for money, how much change, offers, finding the difference and what's the total.
Parent support in school
Please contact teachers' if you have a specific skill in maths or you would like to come in and help children with their maths skills. Tasks could be anything like: Times table practice, small group maths games or mental maths/ arithmetic.
Attached below is a document listing a selection of websites your child may find useful with their maths learning.